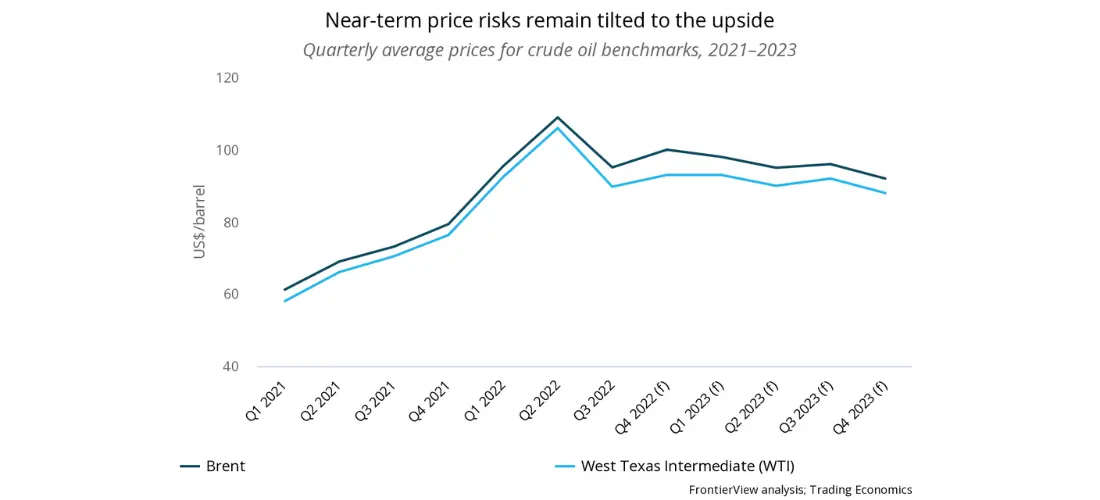 Our Brent crude annual average oil price forecast falls to US$ 100 for 2022, and remains at US$ 95 for 2023
Despite weakening global growth, MNCs should continue to assume a historically high oil price environment through 2023 as a base case. Firms should likewise expect refined petroleum products, such as diesel, gasoline, and jet fuel, to continue selling at a premium. Relatively high prices will continue to be a boon for oil producers and exporters, supporting growth and tax revenues in those markets through next year. Firms should also become accustomed to an environment of continued high oil price volatility and organize buying and financing arrangements that mitigate price swings.
Overview
After dropping from Q2 to Q3, oil prices have fluctuated in the last several weeks. Expectations of continued weak demand from China and a demand-sapping global recession have kept oil price increases contained despite OPEC+ agreeing to cut production by 2 million barrels/day from current quotas and persistent war-related oil market dislocation. Prices are currently hovering in the mid-US$ 90s, with Brent crude having hit a recent high of US$ 98 on October 7 following the OPEC announcement, and a low of US$ 83 on September 26.
Our View
Our annual average Brent crude oil price forecast is now US$ 100 for 2022 and US$ 95 for 2023. Near-term price risks are tilted to the upside, given the likely dislocation resulting from a price cap on Russian oil and the implementation of the EU's oil embargo from December 5, and natural gas shortages in Europe. However, weakening global growth and the persistence of China's Zero-COVID strategy will exert continued downward price pressure through the end of next year and help keep average prices below US$ 100.
OPEC & US supply: OPEC's priority remains to "balance" the market at moderately high prices. Recent moves and statements indicate that OPEC sees the low US$ 80s as a price floor that would motivate further cuts. In the US, President Joe Biden's administration has likewise signaled an effective price floor by stating its intention to replenish its strategic petroleum reserves whenever oil prices move below US$ 72. Although US production will drift higher in 2023, higher interest rates will limit upside.
Russia's oil production: Russian oil production will continue to face downward pressure, as sanctions disrupt Russian energy sector operations, financing, and exports. We expect Russian crude oil production to fall from 11.3 million bpd in Q1 2022 to 9.3 million bpd in Q4 2023.
Oil sanctions: Uncertainty continues to swirl around several proposed and to-be-implemented moves designed to reduce Russia's energy revenues, including a G7 price cap, an EU ban on imports of Russian crude from December 5, and other sanctions on oil transport. Any of these moves may provoke Russia to retaliate by limiting oil exports. Overall, these entail substantial upside price risk to oil throughout 2023.
China's lockdowns: We expect China to continue its Zero-COVID strategy through 2023, which will exert significant downward pressure on oil prices, as China accounts for 13% of global oil consumption. However, "dynamic" lockdowns mean that oil prices will remain volatile, dropping when major cities go into lockdown and rising again when they reopen. The timing and degree of these fluctuations are unpredictable.
Europe's energy crisis: Shortages of natural gas in Europe are already prompting switches to other fuel sources, particularly diesel and coal. Europe's energy crisis will also contribute to upward pressure on natural gas prices in other regions, particularly in China and developed Asia. Fuel switching to petroleum sources will exert upward pressure on oil prices.
Tight refining capacity: Although not reflected in our price forecasts for crude oil, tight global refining capacity—stemming from both the war in Ukraine and a legacy of underinvestment—will ensure that prices for distillates and refined petroleum products remain high and sell at a premium to crude throughout 2023. This will keep prices for diesel, jet fuel, and retail gasoline exceptionally high next year.
At FrontierView, our mission is to help our clients grow and win in their most important markets. We are excited to share that FiscalNote, a leading technology provider of global policy and market intelligence has acquired FrontierView. We will continue to cover issues and topics driving growth in your business, while fully leveraging FiscalNote's portfolio within the global risk, ESG, and geopolitical advisory product suite.
Subscribe to our weekly newsletter The Lens published by our Global Economics and Scenarios team which highlights high-impact developments and trends for business professionals. For full access to our offerings, start your free trial today and download our complimentary mobile app, available on iOS and Android.