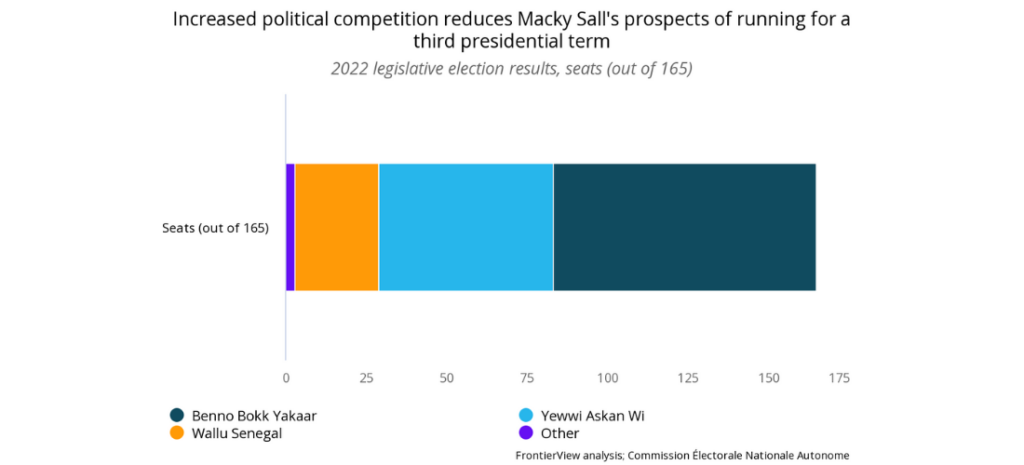 Firms should target public spending plans that are less likely to face opposition pushback
MNCs should plan for a turnover of key decision-makers in the public sector, which could slow budget implementation over the next few months. Firms should also plan for a longer-term slowdown in policy decisions and departmental budget allocations caused by the lack of a parliamentary majority and should align with local partners on which public spending plans are least likely to face pushback from the opposition. In addition, MNCs should monitor political developments and sentiment in the country, particularly in the lead-up to the 2024 election. Plan for the prospect of rising political unrest, which may cause some ad hoc operational disruption and weaker customer sentiment—including in the private sector—and require more security resources.
Overview
In the July 31, 2022, legislative election, President Macky Sall's APR-led coalition (Benno Bokk Yakaar) narrowly lost its parliamentary majority, dropping 43 seats to hold 82 of the 165 parliamentary seats. An alliance between the two main opposition coalitions (Wallu Senegal and Yewwi Askan Wi) jointly received 80 seats, meaning no side holds a majority. The opposition alliance formed to stop President Sall from running for a third term in the 2024 general election, which he has yet to rule out. In the January 2022 local elections, the ruling coalition lost several key cities—including the capital Dakar—to the coalitions that now make up the alliance, following protests over the temporary imprisonment of Yewwi Askan Wi's leader, Ousmane Sonko, in late 2021.
Our View
Following the recent vote, the lack of an absolute majority in parliament will likely complicate lawmakers' decision-making, with an increased risk of stalemates. This is expected to protract public sector procurement processes over the five-year tenure of the new parliament. While the opposition alliance is not strongly aligned on ideology, it will likely succeed in stopping President Sall from running for a third term. Moreover, Benno Bokk Yakaar's diminishing power likely reflects the electorate's distaste for Sall's rising authoritarianism. While political tension will remain elevated over the next year, it will likely moderate following a probable administration change with the 2024 election.
At FrontierView, our mission is to help our clients grow and win in their most important markets. We are excited to share that FiscalNote, a leading technology provider of global policy and market intelligence has acquired FrontierView. We will continue to cover issues and topics driving growth in your business, while fully leveraging FiscalNote's portfolio within the global risk, ESG, and geopolitical advisory product suite.
Subscribe to our weekly newsletter The Lens published by our Global Economics and Scenarios team which highlights high-impact developments and trends for business professionals. For full access to our offerings, start your free trial today and download our complimentary mobile app, available on iOS and Android.