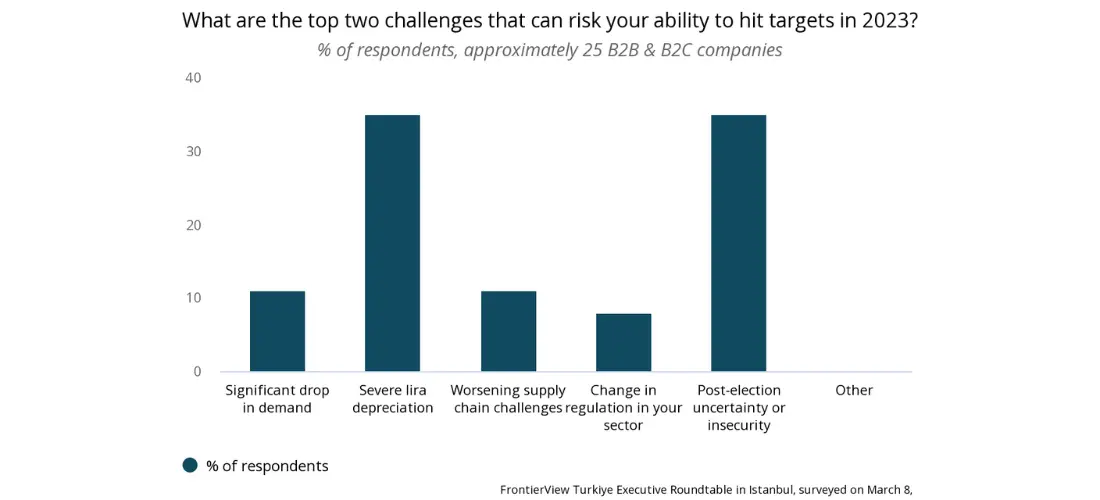 Businesses are concerned about the level of uncertainty for Turkiye's post-election outlook. They are unsure about how customer behavior will change after the election, how consumers at different income levels will react, how business customers will read the election results, and how government policy and spending priorities will shift. Without answers to these questions, businesses are struggling to make investments. During FrontierView's two executive roundtables last week, more than 25 companies in the B2B and B2C sectors and more than 20 companies in the healthcare sector discussed a focus on talent retention, receivables and financial risk management, and ensuring a competitive product portfolio in a highly price sensitive environment.   
Overview
Turkiye has been on a political rollercoaster in the days following March 3. The main opposition front, The Millet Alliance, saw its second-largest party, Iyi Parti, abandon the front over a disagreement on who will be its combined presidential candidate. However, within a few days and after intense negotiations, Iyi Parti returned to the coalition front, backing the head of the main opposition party, CHP leader Kemal Kilicdaroglu, as the presidential candidate. The primary concession was to bring on the two mayors of Ankara and Istanbul—members of the CHP—as potential deputies to the president upon the coalition's potential win. The process brought the popular mayors to the forefront of the presidential campaign, but also kept Kilicdaroglu as the main candidate, and he has some potential to attract the Kurdish vote as well.
Meanwhile, President Recep Tayyip Erdogan confirmed the new election date for May 14. Thus, the formal election campaigning process has begun. Executives will need to monitor:
How well the parties of the Millet Alliance cooperate throughout the campaign process
How concretely the Labor and Freedom Alliance (a leftist second opposition front that holds the pro-Kurdish HDP) supports Kilicdaroglu's bid for presidency
How well alliances prepare their combined lists for running in parliamentary elections, as the new electoral laws suggest
How quickly the victims of the earthquake register their new addresses to be able to vote, and whether they can do this before the deadline
Results of new polls based on the two presidential candidates
What the USD:TRY will be as the country begins elections
Changing bias from foreign investors related to the opposition's economic policies, which will drive potential changes to the lira forecast for post-election scenarios
In addition, Turkiye has seen several economic developments:
The current account in January 2023 reached a record high, a deficit of US$ 9.85 billion. This surpasses the US$ 9.4 billion deficit last seen in March 2011 and brought the 12-month current account deficit to US$ 51.7 billion, up from the US$ 48.7 billion seen in December 2022.
Industrial production picked up slightly, from below 0 in December 2022 to 4.5% YOY growth in January. This figure will drop again between February and April due to the earthquake but will likely recover in H2 2023.
The Q4 GDP data release showed a 5.6% YOY growth in full-year GDP. Government spending grew 5.2%, investments a mere 2.8%, exports 9.1%, and imports 7.9%. Consumer spending grew 19.7%, but FrontierView believes the official inflation used as a deflator for this figure is too low, thus the likely growth in consumption is 8–9%. The construction sector contracted 8.4%; manufacturing grew a mere 4.3%, the service sector grew 11.7%, and the finance and insurance sector grew 21.8%.
Our View
Turkiye's outlook for H2 2023 is extremely uncertain, not only based on which coalition wins the election but also on which economic policies can be implemented immediately after coming to power. The lira will need to depreciate by at least around 20% in the coming months—even if the lira appreciates for a very brief period in case of an opposition win. The high domestic inflation has continued into 2023 and is adding pressure on the exchange rate. Meanwhile, fiscal balance will remain under pressure and limit government spending from either coalition government. However, how quickly domestic, private, and foreign investments increase will depend on the election results, and it is likely to be faster under an opposition win.
---
At FrontierView, our mission is to help our clients grow and win in their most important markets. We are excited to share that FiscalNote, a leading technology provider of global policy and market intelligence has acquired FrontierView. We will continue to cover issues and topics driving growth in your business, while fully leveraging FiscalNote's portfolio within the global risk, ESG, and geopolitical advisory product suite.
Subscribe to our weekly newsletter The Lens published by our Global Economics and Scenarios team which highlights high-impact developments and trends for business professionals. For full access to our offerings, start your free trial today and download our complimentary mobile app, available on iOS and Android.