UAE Can Expect Growth in 2022, though Inflation Continues to Rise
Just released! Our monthly MENA Market Monitor captures and contextualizes the market shifts you care about with snapshots of the latest business, economic, and political trends in your key markets. In this month's monitor, we've revised up our average oil price and believe that uncertain oil market dynamics, particularly around geopolitical and supply risks, will contribute to high volatility throughout the year.
The region can expect growth in 2022, supported by better exports and recovering domestic demand. Though omicron will continue to dampen the tourism recovery in the first quarter, higher arrivals in H2 will boost domestic consumer spending. Now is the time to revise your pricing strategies and support local partners.
Higher energy prices, supply chain disruptions, protectionist policies, and overall inflation will press margins. FrontierView will continue to highlight the risk of sporadic episodes of political insecurity in the region driven by the blanket nuclear-deal agreement.
Keep reading for an overview of the United Arab Emirates, one of the largest markets in the region.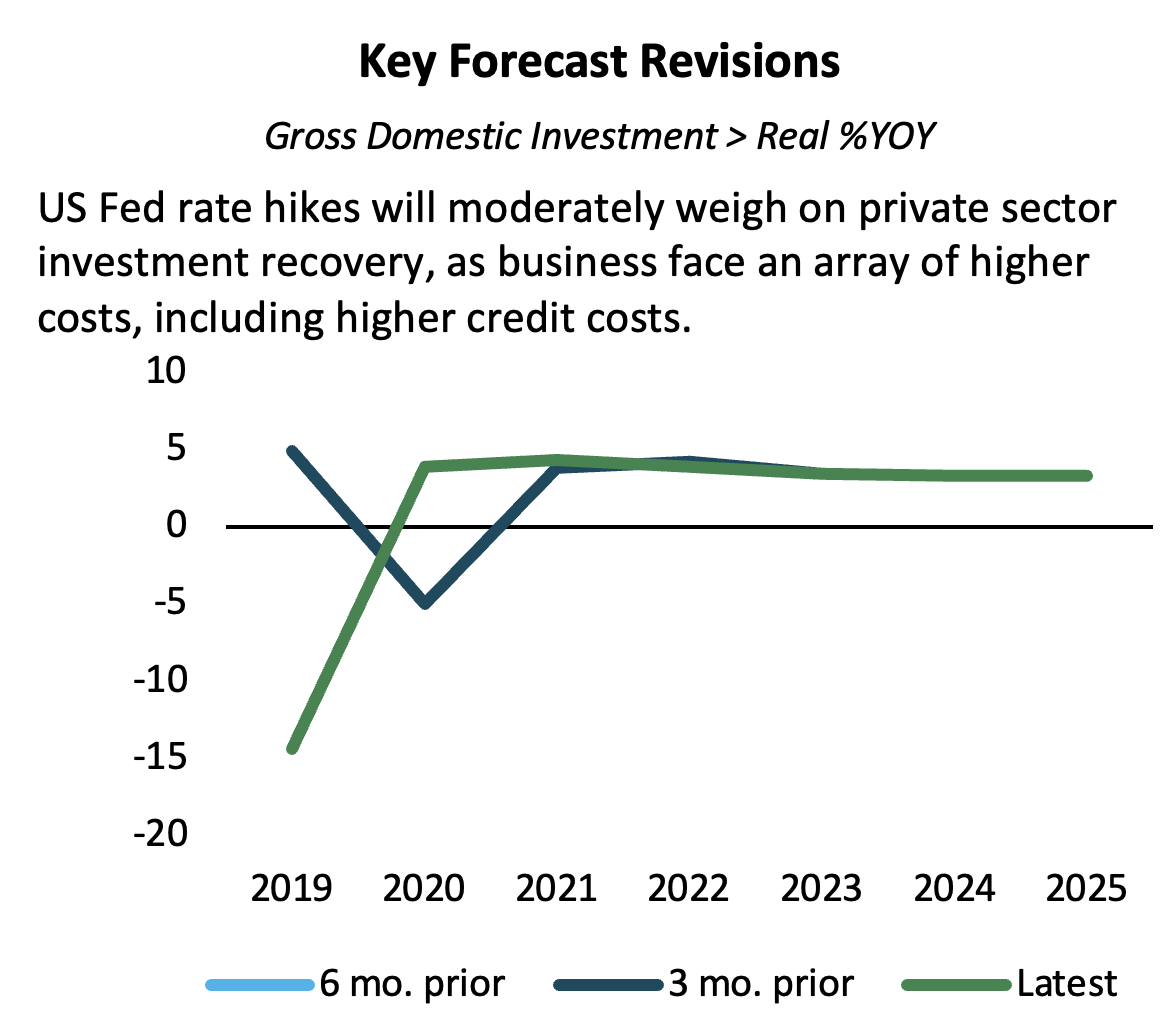 Market Trends
The UAE can expect growth as business activity remains high, along with private confidence. The Purchasing Managers Index (PMI) averaged a high 55.7 through the fourth quarter of 2021, and out of home consumption has normalized. We do expect a slight dip in January and February due to Omicron, but this will improve after the wave passes.
Inflation continues to rise, after it hit a record high of 2.6% in the fourth quarter of last year. The full extent of the rise in inflation will be softened initially by the promotional practices business have had in place due to Omicron and global travel disruptions. However, by the second quarter of 2022, a jump in demand and higher fuel prices will drive inflation above 2%.
Prioritize planning for further price sensitivity risks, as emerging market currencies are expected to weaken against the USD and AED with the anticipated US Fed rate hikes.
Key Developments
Tourism in the UAE can expect a strong 2022. The travel and tourism index averaged 54.8 in Q4 2021, the highest average since the pandemic began, indicating a near-full recovery. Arrivals at Dubai International Airport jumped to 1 million passengers in one week in November 2021, from a mere 250,000 in October. We expect the pace of the tourism recovery to continue accelerating towards the end of the first quarter.
The UAE's new budgets showcase an extension of legacy priorities. Dubai's new budget will increase spending by nearly 5%, with infrastructure, energy, transportation, and healthcare continuing to be among the top priorities of the public project funding. B2Bs will find new opportunities among the start-up and fintech SME categories.
Emphasizing cost and productivity efficiencies will help better position your product/services to public and private businesses in 2022 that seek to expand capacity but not deviate from fiscal consolidation and budgeting.
Download our monthly MENA Market Monitor for additional market coverage and qualitative insights on monthly trends.
---
At FrontierView, our mission is to help our clients grow and win in their most important markets. We are excited to share that FiscalNote, a leading technology provider of global policy and market intelligence has acquired FrontierView. We will continue to cover issues and topics driving growth in your business, while fully leveraging FiscalNote's portfolio within the global risk, ESG, and geopolitical advisory product suite.
Subscribe to our weekly newsletter The Lens published by our Global Economics and Scenarios team which highlights high-impact developments and trends for business professionals. For full access to our offerings, start your free trial today and download our complimentary mobile app, available on iOS and Android.