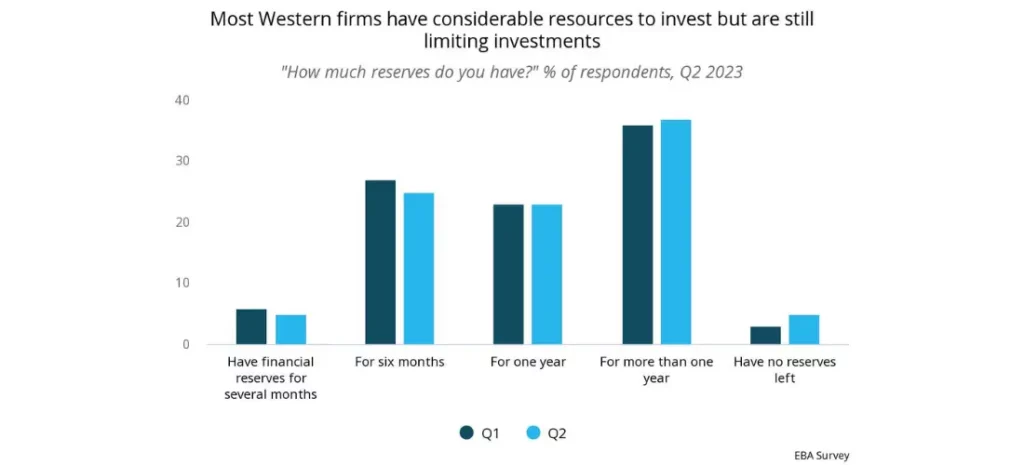 The primary unknowns are how long Ukraine can sustain this ongoing offensive and the level of Russian manpower and resources behind first defensive lines
Multinationals should be factoring in the rising potential for the Ukrainian market to open up for investment in H2 2024, based upon our revised optimistic view for Ukraine's prospects in the war. Until then, firms can expect continued Western support that has created the hryvnia stability seen this year, delaying expected devaluation into early next year. Moreover, continued slowing of inflation will allow interest rates to continue to fall into 2024. Still, a continuation of the war and major missile and drone attacks on infrastructure again this winter will create problems for demand and operations, though likely not as impactful as last winter. Meanwhile, rising expectations for another mobilization in Russia in the coming months, further tightening an already extremely tight labor market, will drive up business costs and overall inflation, sustaining high interest rates across 2024.
Overview
Ukraine's counteroffensive began in early June and has seen consistent, intense fighting along three primary axes since then in the northeast around Luhansk oblast, around Bakhmut in Donetsk, and in the south in Zaporizhzhia, with movement toward Tokmak/Melitopol and toward Berdyansk on the Azov Sea.
Ukrainian forces have made some notable gains in the south in these two directions; breaking through the first defensive lines in the direction of the Russian stronghold of Tokmak, and pressuring Pryiutne-Urozhaine toward Berdyansk.
The strategy has been to degrade Russian logistics and supplies behind enemy lines, while de-mining slowly amid intense fighting on the front lines.
Following the fall of Bakhmut to Russian forces in May, Ukraine has made notable advances surrounding the town and has recently taken a number of villages, including Klishchivka south of Bakhmut, threatening an encirclement at some point.
Russia is seeking to counterattack in the northeast in the Kupyansk direction near Luhansk oblast, which has served to force Ukraine to divert reserves. Russia has also moved reserves over to the increasingly vulnerable southern axis.
Our View
Ukraine has made much more notable gains in recent weeks, albeit slowly overall—marking just some 10 miles or so toward the Azov Sea. Gains are set to continue as evidence mounts of continued Ukrainian capacity to extend the offensive, while Russian manpower and resources are being eroded, particularly in the south. The primary questions at this point are how much longer can Ukraine's current offensive continue, and how well resourced and manned are Russia's deeper defense lines. It appears Ukraine can sustain high-intensity combat through the rest of this month, at least; meanwhile, substantial evidence suggests Russia has—primarily for the political purpose of holding the front lines—moved up considerable manpower and materiel to the front, leaving backlines more vulnerable once the front is pierced. The degree to which the deeper defensive lines are now under-resourced is not clear, however.
While conditions have become more favorable for Ukraine, this war will extend deep into 2024, with the upcoming culmination of this offensive setting up the conditions for another offensive early next year. Fighting will continue this winter, with attacks by both sides beyond the line of contact and deeper into Russian and Ukrainian territory. Both Ukraine and Russia now face the issue of regenerating combat power for fighting in the spring of 2024, demanding further mobilization efforts by both sides.
Ultimately, however, the advantage remains with Ukraine, which is setting itself up for a spring offensive when it will have more capabilities and increased Western training. More ammunition, artillery, tanks, and now F-16 jets will provide greater capacity to Ukrainian forces. Meanwhile, Russia has less ability to improve its fighting force, with no additional capabilities to launch a new offensive, and can only use the winter to stockpile weapons and try to increase manpower, which will help defense modestly.
In the broader war of attrition, Russia will assuredly continue its missile and drone strikes across Ukraine this winter, meant to degrade morale and Western resources, but will likely accomplish little toward either of these ends. Russia's exit from the grain deal likewise puts additional pressure on the economy. For Ukraine, a major uptick in attacks in Crimea, Moscow, and on military and supply assets across Western Russia has been observed in the past month, with more coming.
As noted in recent months, despite no major breakthrough to date, the base-case expectation remains that Ukraine will turn the tide of the war next year and be in a position to obtain favorable ceasefire/peace terms by the end of 2024. A sense of urgency for victory is developing in Ukraine and the West, a country tired of war with concerns about continued Western support, and a sitting US president who cannot afford to enter the presidential campaign without a Ukrainian victory.
---
At FrontierView, our mission is to help our clients grow and win in their most important markets. We are excited to share that FiscalNote, a leading technology provider of global policy and market intelligence has acquired FrontierView. We will continue to cover issues and topics driving growth in your business, while fully leveraging FiscalNote's portfolio within the global risk, ESG, and geopolitical advisory product suite.
Subscribe to our weekly newsletter The Lens published by our Global Economics and Scenarios team which highlights high-impact developments and trends for business professionals. For full access to our offerings, start your free trial today and download our complimentary mobile app, available on iOS and Android.