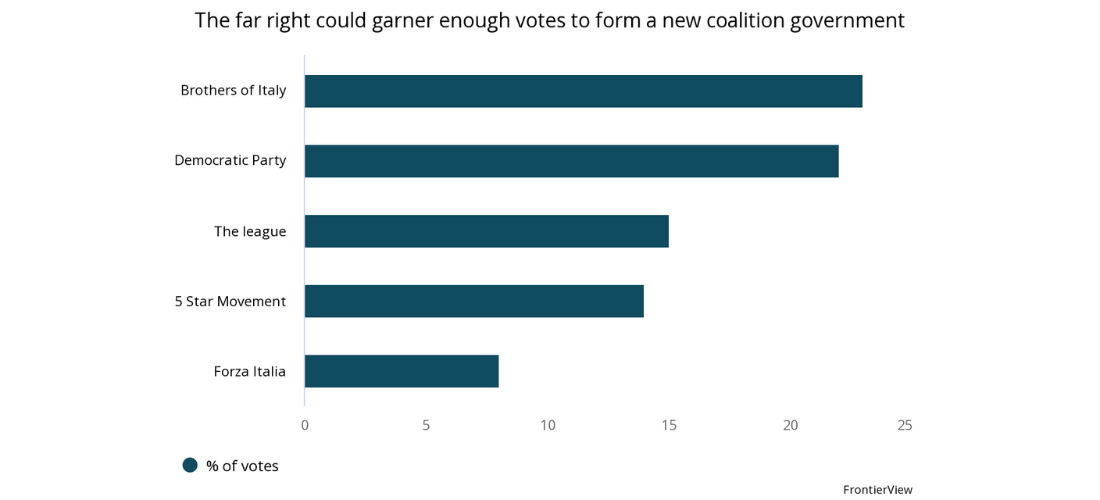 Italy faces either a weakened government led by Draghi or an early election, with negative implications for growth heading into 2023
Political turmoil will add to Italy's economic woes, with a sharp slowdown forecast for at least the next two quarters. The continuation of Draghi's premiership would be the least economically disruptive outcome, but heightened uncertainty will act as a further drag on business confidence, reducing B2B demand. Additionally, passing future support measures for households will become increasingly difficult as parties begin to campaign in advance of the spring 2023 election. If the government collapses and an early election is called, MNCs will need to prepare for a worsening operating environment, with higher borrowing costs and a further acceleration in inflation adding additional downward pressure on B2B and B2C demand.
Overview
Tensions in Italy's coalition government reached a new high last week when the 5 Star Movement refused to support Prime Minister Mario Draghi's economic support package. The bill provides an additional EUR 26 billion in support for struggling families who have seen their purchasing power curtailed by rising inflation. However, the 5 Star Movement claimed the package didn't go far enough, which put it at odds with Draghi's desire to contain government spending. While the bill passed, Draghi submitted his resignation to President Sergio Mattarella, citing the disintegration of Italy's national unity government. Mattarella refused to accept his resignation, forcing another vote of confidence in Draghi's government this Wednesday.
Our View
Wednesday's vote of no confidence offers two potential outcomes, neither of which bode positively for the economy. Ideally, the vote of confidence passes, and Draghi is persuaded to remain as prime minister until the spring 2023 election. However, his ability to push through remaining reforms to unlock additional funds from the NextGenEU recovery program would be severely undermined as parties gear up for next year's election and push back against his agenda. Political posturing would likely intensify this autumn as the government attempts to pass its 2023 budget, potentially throwing Italy back into political crisis. Given the heightened state of uncertainty this scenario entails, MNCs should expect business confidence to worsen, weighing on B2B demand. This environment would also make passing any additional support measures for Italian households extremely difficult, further darkening the outlook for B2C demand in Q4 2022 and into early 2023.
Alternatively, the vote of no confidence fails or Draghi refuses to continue as prime minister, forcing an early election. Current polls suggest the far-right Brothers of Italy would garner the largest share of votes. The party, led by Giorgia Meloni, has refused to participate in Draghi's coalition government and called for a fresh election last week. Despite a rise in the polls, Meloni would still require a coalition partner to form a government, with the League and Forza Italia parties the closest ideological fit. However, a far-right government would likely be highly unstable due to the personal rivalry between Meloni and the leader of League, Matteo Salvini.
Even if the government proved short-lived, the economic damage could still be considerable. The formation of a far-right government would rattle markets, pushing up Italy's borrowing costs and depressing investment. While Meloni has previously struck a Eurosceptic position, she has recently softened her stance. Nevertheless, we would expect EU-Italian relations to harden at precisely the time when the EU is set to discuss reforming its debt and deficit rules for the bloc. This could put additional downward pressure on the euro, increasing imported inflation and dampening the anticipated recovery in B2C demand in the second half of 2023.
In the near term, rising borrowing costs are the biggest risk facing Italy's economy. Italy has EUR 200 billion in debt to roll over before the end of the year, and already the spread between German and Italian sovereign bonds has started to widen. Although the EU is set to introduce a new tool to tackle fragmentation in the sovereign bond markets this week, intervention by the EU will likely come with strings attached. Italy would likely struggle to meet these conditions whether led by Draghi's diminished coalition or a far-right government. If borrowing costs continue to rise, MNCs can expect the availability and demand for credit to fall, depressing both B2B and B2C demand.
At FrontierView, our mission is to help our clients grow and win in their most important markets. We are excited to share that FiscalNote, a leading technology provider of global policy and market intelligence has acquired FrontierView. We will continue to cover issues and topics driving growth in your business, while fully leveraging FiscalNote's portfolio within the global risk, ESG, and geopolitical advisory product suite.
Subscribe to our weekly newsletter The Lens published by our Global Economics and Scenarios team which highlights high-impact developments and trends for business professionals. For full access to our offerings, start your free trial today and download our complimentary mobile app, available on iOS and Android.